Me Haces Falta was the second single from ''Como Ama Una Mujer''. It was released in September 2007. It was written by Estéfano produced by Estéfano and Marc Anthony. Marc Anthony provides background vocals.
Me Haces Falta was recorded at the Midnight Blue Studios in Miami under the direction of Bruce Swedien and Peter Wade and was mixed by Bruce Swedien and Julio Reyes. "[It's] basically about someone who is missing someone so much and has done something so wrong to the person that they know they can't fix it," Lopez told MTV on the Los Angeles set of the video. "So they just hate themselves right in that moment, they can't stand [it], they regret everything that they did and they wish they could change things. It's basically about missing somebody terribly. (
MTV
)
PERFORMANCES
Jennifer performed the song various times while on tour with Marc Anthony.
The song was also featured at the end of one of the episodes of Jennifer's miniseries, entitled Como Ama Una Mujer. It was sent to Latin radio stations in the second week of July. The song was also played on European radio stations.
MUSIC VIDEO
In June 2007, it was announced that Jennifer would be filming a video to promote the song. (
BB
/
Video Static
) The music video was directed by Sanji and filmed in Los Angeles over a two day period. Jennifer explained the concept to MTV: "The concept is basically I am somebody who can't be with somebody because of what I do and what he does. So there is a kind of hopelessness and helplessness in the fact that they
can't
be together because of their lives, their lifestyle. And it's that huge obstacle we wanted to put in the video, where they actually could not be together, which makes them miss each other so much." (
MTV
) The video premiered on Univision's Primer Impacto on July 18, 2007.
[BB]
Jennifer plays an FBI agent on a stakeout targeting the man she is in love with.
WATCH IT:
http://www.youtube.com/watch?v=298Wx0pUjkc
Set Photos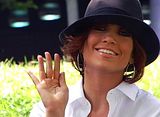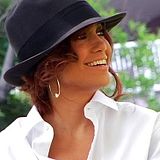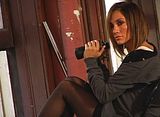 CD SINGLE TRACKLIST

''Me Haces Falta''(Album Version)
LYRICS

Ahora sí te hecho de menos
Ahora que sí me lo creo
Me duele vivir y pensar que elegí
en vez del cielo el infierno
Que sí se extrañan tus besos
Que sí me muero por dentro
Me alejo de ti hacia la oscuridad
y en el fango me encuentro
La verdad estoy mal
El sufrir, es gritar
CORO
Sí me haces falta
Tu me haces falta
Sí te recuerdo, te extraño, te siento en el alma
Sí me haces falta
Tu me haces falta
Sí me arrepiento, me odio, estoy desesperada
Desesperada, estoy aquí desesperada
Ahora sí te hecho de menos
Ahora sí estoy hecha menos
Ahora sí puedo sentir toda la soledad
Que tanto y tanta da miedo
Que sí te extraño te pienso
Que sí el dolor es intenso
El sobrevivir de la batalla final
Es cruzar el desierto
La verdad, estoy mal
El sufrir, es gritar
CORO
Sí me haces falta
Tu me haces falta
Sí te recuerdo, te extraño, te siento en el alma
Sí me haces falta
Tu me haces falta
Sí me arrepiento, me odio, estoy desesperada
CORO
Sí me haces falta
Tu me haces falta
Sí te recuerdo, te extraño, te siento en el alma
Sí me haces falta
Tu me haces falta
Sí me arrepiento, me odio, estoy desesperada
CORO
Sí me haces falta
Tu me haces falta
Sí te recuerdo, te extraño, te siento en el alma
Sí me haces falta
Tu me haces falta
Sí me arrepiento, me odio, estoy desesperada
TRANSLATION
indeed now I miss you
now in fact, I do believe it
it hurts me to live & think that i chose
hell instead of heaven
that in fact, your kisses are missed
that in fact, i die inside
i distance myself from you into obscurity
and find myself in the mud
the truth is that i'm not well
it's like suffering, it's like screaming
yes, i need you
i need you
yes, i remember you, i miss you, i feel you in my soul
yes, i need you
i need you
yes, i regret, i hate myself, i'm desperate
desperate, i'm here desperate
yes, now i miss you
now i really feel the pain
so much, it is scary
that in fact, i miss you, i think of you
that in fact, the pain is intense
to survive the final battle
is to cross the desert
the truth is that i'm not well
to suffer is to scream
yes, i need you
i need you
yes, i regret, i hate myself, i'm desperate
yes, i need you
i need you
yes, i regret, i hate myself, i'm desperate
yes, i need you
i need you
yes, i regret, i hate myself, i'm desperate