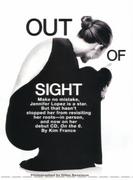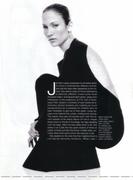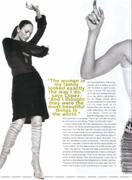 OUT OF SIGHTMake no mistake, Jennifer Lopez is a star. But that hasn't stopped her from revisiting her roots in person, and now on her debut CD, On the 6.
Jennifer Lopez possesses an enviable ability to move in dramatically different worlds, and just five days after appearing at the Oscars, she seems quite at home addressing a distinctly different crowd some three thousand miles and several light-years away from Hollywood. In the auditorium at P.S. 225 in Rockaway Park, Queens, hundreds of near-hysterical elementary school students are creating as much pandemonium as is possible for children whove been forbidden to get out of their seats. Lopez appears from behind the curtain, smiling and waving. The twenty-nine-year-old actress and with the release of her debut album
On the 6
singer plops down on the lip of the stage, her legs dangling over the edge. After the kids settle down a bit, she starts in on a talk she has given dozens of times in public schools just like this (lower middle class, primarily black and Latino) since she became a star.
She explains to the kids that their neighborhood is a lot like her old home, the Bronx. When I was young, there were some messages I got about what I could and could not achieve because of where I came from, she says. Im here to tell you because I started out exactly where you are dont let anyone tell you you cant do anything you want, because you can. Then she answers questions (Miss Lopez, how did you become so beautiful?) and listens to recitations of letters the children wrote to her (Dear Miss Lopez, I love you. When my best friend heard you were coming to our school, she started to cry because she loves you, too). She is presented with flowers and a report card, and treated to a performance by the P.S. 225 Stay-in-School Dancers. The whole thing might have been hokey, but it was actually so touching that the knot of suits whod accompanied Lopez (her agent, her assistant, two publicists, etcetera) react like a bunch of old saps. Lopezs good friend and manager, Benny Medina not especially famous for his soft touch looks around and asks, Why are we all crying? Probably because the kids offered up such a pure expression of excitement that it was clear Lopezs message stood a good chance of making an impact. Arguably, any hot celebrity could cause this kind of stir, but would it mean as much if, say, a Spence girl like Gwyneth Paltrow showed up and told these kids to stay in school?
One of the most pathetic spectacles on earth is seeing a movie star pretending to be a normal person, Martin Amis once said, no doubt referring to precisely this kind of public display of largesse giving something back, while a reporter bears witness. But Lopez can pull off this type of event because she understands, as no outsider really can, what it is to be so close to the money and power of a city like Manhattan, but have no access to it.
Likewise, while Lopez has not forgotten where she came from, she is very aware that shes not there anymore, and her records title,
On the 6
, is a reference to this homegirl/Hollywood princess dichotomy. The 6 train is the line that Lopez took into Manhattan for dance classes, and to clubs like Palladium and Danceteria. As a little girl, she and her mother took the 6 to visit her father (who worked at an insurance company) in the city for lunch. It was a huge deal, she says. Wed get dressed up, take the train all the way downtown, have lunch, walk around Union Square. We had a whole ritual. It was incredible, seeing things and people and stores we never saw. It was a place where dreams are made, you know? Whereas the Bronx was just where you lived. I named my album
On the 6
cause thats how I got where I was going, but it was also how Id get back home.
Sitting in a chauffeur-driven Land Rover on her way back to Manhattan, Lopez looks as polished and refined as a Miller sister the type of woman who makes you want to check for dirt under your nails. She is dressed in Daryl K. jeans, a Moschino sweater, and a khaki Anna Molinari trench coat cinched at the waist, and her hair, newly blonded, is held back in an elegant silver ponytail holder. Lopez asks her best-friend-since-the-age-of-seven/personal assistant Arlene Rodriguez, who is sitting up front with the driver, to call in a manicurist to fix the not very proficient job she received the previous day, and to call ahead to the St. Regis where shes staying while shes in town from L.A. to order lunch so its ready when she arrives. A favorite salsa song, No Le Pege a La Negra, comes on the Spanish-language radio station, and Lopez lets out a squeal. Turn it up! she tells the driver, as she starts to sing along. Thats my @#%$ right there.
Lopez clearly loves her Latin background as she jokes with Arlene, her Bronx accent becomes increasingly pronounced but the fact that her success has forced her into role-model mode is not something she relishes. When I first became well-known, I was freaking about it. Edward James Olmos once sat me down and said, You are very important to your community. The room started spinning. I was like, I cannot take all this responsibility on my shoulders. Im one little person! Im a little actress girl!
Well, yes and no. Though she feels intimidated by the prospect of becoming a spokesperson, there is nothing little about Lopez onscreen: Even in her first big movies, the action thrillers
Money Train
and
Anaconda
, Lopez had a sexiness and presence that telegraphed a certain next-big-thingness. But as she has moved on to lead roles, the sexiness has proven to be something of a base coat. In
Selena
she played the slain Tejano star with innocence and sweetness. In
Out of Sight
, her best role so far, she played tough, smart Federal Marshall Karen Sisco. But recording an album has allowed Lopez to express herself in ways acting cant: With my movies, youre gonna get a character, she says. Thats what I pride myself in, that I dont see myself in the characters Im playing. With my music youre going to get more about who I am. You cant hide yourself. Youre not trying to be something youre not. If you are, youre in trouble.
When you hear that a movie star is recording an album, its hard not to think of Don Johnson and others who have attempted it with less-than-distinguished results, but its unlikely Lopez will share this fate. First off, in her case, making an album isnt a vanity whim: Lopez got her start in musical theater (touring Japan and Europe with a show called The Golden Musicals of Broadway). In addition, she is striking at the perfect moment for a Latina pop star to hit it big here. Its a business move, Lopez says of the interests in artists like her, Ricky Martin, and Marc Anthony, with whom she duets on the album. The Latino dollar is very powerful in the States and abroad. Its a huge international market. Most significantly, Lopez has aligned herself with some of the best names in the business:
On the 6
is being released by The WORK Group, a division of Sony Music, the label behind such 90s divas as Mariah Carey and Celine Dion. Sean Puffy Combs produced tracks, as did Emilio Estefan, Jr., and Grammy-nominated producer-of-the-moment Rodney Jerkins. (When she came to the studio, it was like magic, says Estefan. She could definitely sing. People are going to be surprised.)
On the 6
has all the earmarks of a great summer-in-the-city album, with just the right mix of smoldering sexiness, weepy balladry, and bass-thumping party music. Lopezs voice is clear and strong, like Gloria Estefans but sultrier.
On the 6
is a perfect hybrid of the music Lopez loves. Growing up, she would listen to Top 40, Broadway musicals, and Celia Cruz at home. From her friends, she cultivated a love of hip-hop, and distinctly remembers the first time she heard the Sugar Hill Gangs seminal hit Rappers Delight, back in third grade. I was an instant fan the beat of it and the rapping. I would hear that at school and pop and salsa music at home. When you listen to the album, its those three influences you hear.
Back at the St. Regis, Lopez opens a manila envelope from her PR agency and pores through a stack of press clippings. Most stars may pretend not to read what is written about them, but Lopez makes no such claims: They send it every day. I could tell them to stop. But its fun to see what people think about you. What havent been so fun are the rumors of an affair with twenty-nine-year-old Puffy Combs (who has a child with long-time girlfriend Kim Porter) that have dogged Lopez since the two were allegedly spotted enjoying a frolic by the pool at Miamis Delano Hotel last year. More recently, at
Vanity Fair
s post-Oscar party, the pair reportedly sneaked off alone into a heavily-guarded restroom. And Combs turned up at the ELLE photo shoot. But when those in attendance asked if they were together, Lopez and Combs insisted they were just good friends. Whatever the nature of their relationship, its not hard to see that they share a failure-is-not-an-option drive and unapologetic enthusiasm for a certain champagne-and-movie-stars vision of the high life.
Who knows why they hang on to certain things, says Lopez of the rumors. Does it make me mad? I dont concentrate on things like that. And yet her tone of voice betrays concern. I read in the
Star
or the
Enquirer
or something Arlene brings them home, and I always tell her, Dont bring those rags in the house! about how I got my record deal. She is presumably referring to rumors that she was involved with Sony boss Tommy Mottola. And Im like uhhhh! To think I would need to do that. To get as far as Ive gotten. As if somebody could get a record deal that way.
While the notion of getting a record contract on the strength of abilities other than musical is not, in fact, so far-fetched, in Lopezs case, the accusations seem churlish. Its [gotten] to the point that I dont take pictures with anybody. Not long ago, she was meeting with a director to discuss a role. They photographed us outside the Ivy. And this guy is, like,
not into me
. Trust me, she says, projecting a meaningful gaze. The next day, big story in the paper about how thats my new boyfriend. Theyll link me with anyone. So ridiculous. I
wish
I had that much action.
Lopez insists there has been no big romance in her life since her divorce from Ojani Noa, who she married in 1997 and split with less than a year later. She allows that her success and the disparity it created in the relationship was a strain. It changes things, she says. There are too many years of the message inbred that the man is the caretaker. Its hard, but Im still optimistic. I feel like my perfect partner will understand me and support me and Ill support him and life will be dandy.
Certainly she is not single (if she s actually not single) because of a lack of suitors. Owing in large part to her famously shapely booty, Lopez has the power to reduce normally well-behaved grown men into tittering seventh-graders. She says shes grown used to that kind of attention, which started when she was way too young to understand it. [Id be] walking down the street, she says. And theyd say something you know how Spanish men are. Youre just a little girl and youre like, How come they always say it after I pass by? At first I hated it, but as I got older, I realized it was a good thing. She giggles mischievously. And nothing to be ashamed of. All the women in my family looked exactly the way I do and I thought they were the most beautiful things in the world.
But while she loves her butt, she does not love the fact that her body has been touted as rounder and realer. Shes a size six, for crying out loud. Its like, Oh, its okay to be big, Lopez says, paraphrasing stories shes read about herself, and Im like, Im not big, Im in shape. I dont eat all I want. I work really hard to have my body the way it is.
Nor does she appreciate implications that she is trashy. When the
Daily News
referred to her as a reformed tramp, she demanded and received an apology. I never had a wild phase, she says, as Pilar, the manicurist, arrives. I think it was because of my mom and dad, the way they brought us up. Always told us No drugs, no drinking, keep your legs closed. Still, she wont go so far as to say shes more good girl than bad. Remember that Jessica Rabbit line? she asks, giggling. You cant blame me, Im just drawn this way.
"If you can't be a good example, then you'll just have to be a horrible warning."