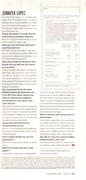 Those eyes. Those curves. That mouth. And oh, the things that come out of it! Those are just a few reasons why we can't get Jennifer Lopez, the star of Out Of Sight, out of our minds.
She's just what you'd want her to be: sassy, street, gorgeous, good. Especially right now. That's because right now the woman who left the South Bronx at twenty-one to become an In Living Color "fly girl," the woman who tells it like it is and don't we like that ("Madonna? Do I think she's a great actress? No," she said to a reporter. "Gwyneth Paltrow? I don't remember anything she was in . . . I heard more about her and Brad Pitt than I ever did about her work."), and - okay, maybe most of all - the woman who brought curvy backsides front and center is stretched across a plush couch in her midtown New York split-level hotel suite while late-afternoon sun floods the room. Packed into a provocatively tight gray Gucci turtleneck sweater, black stretch pants, and high-heeled leather boots, the five-foot-five Bronx bombshell casually raises her right leg skyward, then oh-so-slowly pulls it to the tip of her nose. And, before you know it, there it is right now: She's doing a split for you. Maybe it's just a dancer's thing. Maybe she's shamelessly flirting. Who cares? How could we not make a vision like this our Woman of the Year? Say hello to Jennifer Lopez.
Jennifer had a big year. Most importantly, of course, there was Out of Sight, in which the twenty-eight-year-old actress kicked her way into George Clooney's trunk and America's collective fantasy. It was also the film that earned her the biggest payday ever for a Latina actress: $2 million. But there were other milestones that made Jennifer a unanimous choice: appearances in Sean "Puffy" Combs' "Been Around the World" video and Marc Anthony's "Te Conosco Bien" video; that eye-popping "Danger: Curves Ahead" entrance at the Academy Awards; a big fat modeling contract with L'Oreal; a Sony record deal for her forthcoming debut album of Latin soul; and, oh yeah, a divorce from her husband of one year, followed by unrelenting speculation about an affair with - oh, you read that too? - Puff Daddy.
So join Jennifer as the Empire State Building shimmers outside her hotel (she's been living here since her divorce) and she shimmies around her glamorous abode du jour. She may not be here tomorrow, you know - she "might just fly to Miami - that's the way I am." But right now she's all yours. So get it while you can.
Hey there, Miss Lopez.
Hey, you want a chocolate? I got a big box. It's from Jeffrey Katzenberg and,,. (gets up from the couch, opens a big red box, and gasps). Who eats this much chocolate, Jeffrey? Oh, wait, this is a chocolate covered Oreo. Can't frown on that, right? (straddles the couch and munches down)
Chocolates from Jeffrey Katzenberg and a room with a view - wow, that's not bad for a poor little Puerto Rican girl from the South Bronx.
It's funny. I went to Paris for the Versace show with my assistant Arlene, who I've known since I was seven, and they flew us there on the Concorde. At the airport a silver Mercedes picked us up. So we get in, and I put a tape of my new album in the tape deck, and we're sitting there, smiling ear to ear, and I said, "Look at us. We're two simple girls from the Bronx in a Mercedes in Paris with a guard and a driver, listening to my album on our way to our two bedroom suite!" I felt like Audrey Hepburn.
So did you always want to be rich and famous, Sabrina?
Always. Well, I always wanted to sing and dance and be in movies, but when you're little, you don't really understand what the "rich and famous" part is all about - it's just a catchphrase that means (points at imaginary screen) "I wanna be doing what they're doing up there." And ever since I was three that's how I was - I always felt all this drama inside of me.
So what was this drama mama's favorite movie back then?
West Side Story, which I've seen more than a hundred times and I'd watch right now, if I could. I loved that it was a musical and about Puerto Ricans and that they were living where I lived. I wanted to be Anita because I love to dance and she was Bernardo's girlfriend and he was so hot. (pauses) But then Maria was the star of the movie. So it was basically like, I gotta be Maria.
But Maria's so dull.
She's dull, but she's the star! (laughs)
And you're an ambitious girl.
And I've always said I was.
And you were raised in one of the poorest, most notorious neighborhoods in America.
Yeah, I remember the word "bills" from when I was two. And yeah, my two sisters and my morn and dad and I, we all lived in a small apartment that was cold in the winter and hot in the summer. But hey, there was always rice and beans.
So what made you think you could ditch the rice and beans to become a future Woman of the Year?
Well, first off, chicken cutlets and red beans and rice is still my favorite dish, (smiles) but I don't know - I just always wanted to achieve and be proud of myself.
Were you a major babe as a young Bronx girl?
I wasn't one of the hotter girls - my body hadn't developed much - but I was one of the cooler girls. Then in the tenth grade, I started dating my first boyfriend, and he made me feel like a hot babe. I stayed with him for almost nine years.
And is he the man who made the first touchdown with you?
Yeah. (sighs) I was seventeen.
How was it?
I don't know if anybody has a great first experience - I mean, at the time you're just two kids trying things out and nobody knows what they're doing. Later, it became much more exciting, (ponders a moment) But you know - really, I still feel like I'm learning. And I'm open to learning more. And I want my partner to be, too. (worked up now) There's always room for improvement, so do not get too comfortable!
And how many men have you not gotten too comfortable with?
I'm embarrassed, 'cause I'll sound so inexperienced, but, well, let's put it this way: I can count them on one hand.
Wow. So how important is sex in your life?
Oh God, I can see already that this is gonna be the kind of article that'll make my mother say "Why did you talk about sex so much!" (suddenly yells) Arlene! Come here! (Arlene trudges in) I want you to sit here while we talk about sex. Okay, go ahead, ask whatever. She knows me better than anybody, even my parents.
Um, okay. Arlene, were you the first person that Jennifer told about losing her virginity?
JENNIFER (immediately): No - I didn't tell anybody!
ARLENE (rolling her eyes): She was a geek.
JENNIFER: But Arlene, that was a secret of ours - we didn't tell anybody.
ARLENE (deadpan smile): That's so sweet. Goodbye, (she leaves)
Goodbye. Okay, Jennifer, now that you're all embarrassed, let me ask you this: One of your best movie lines was in U-Turn when you said to Sean Penn, "You don't know whether to @#%$ me or kill me." When was the last time you had to say that in real life?
(laughs) I'm not as insane as that girl, so I don't drive men to that point. Until after I leave them.
Got it. So when you're fed up with a guy, how does he know?
I'm a very patient person, but the minute I lose my patience I don't beat around the bush - I cut to the jugular and you're there with your head on the floor, still talking.
Sounds like one of your movies. Let's see... so far you've pushed Sean Penn off a cliff and tomahawked Nick Nolte in the chest [both in U-Turn], punched out Wesley Snipes [Money Train], and shot George Clooney in the leg [Out of Sight]. That's a good track record!
But I did all those things out of love. (smiles sweetly)
Did you, now? So how does the little killer's tough love translate into real life?
It depends on how the guy's getting out of line. But I don't allow them to really get to doing me wrong, 'cause I don't stay in those types of relationships.
How easily do you fall in love?
Not very, but when I do, it's intense. A successful career is not happiness, and if you look for it to be, when it goes wrong you're gonna be sunk, you're gonna be sick, you're gonna be finished. So love is very important in my life - I need to give affection and make people feel good.
And your life has now become a constant stream of tabloid items about people you may or may not be making feel good. Thus far you've been paired with Tommy Mottola, Marc Anthony, and Puff Daddy. Which rumor isn't true that you most wish were?
I swear to God I don't read the tabloids much. I've even trained my family not to call me and tell me what the garbage is - because unless they're saying you're killing dogs in the stairway for some religious ritual, it's better not to know. So, I don't know - which one do you wish was true?
Well, the Tommy Mottola rumor would be nice, because then you could get in fights with Mariah Carey and be sleeping with the head of your record company.
(aghast) Why would you want that? That is so sick!
You're the one who asked.
Well, it's not true, thank God!
Okay. Those are lovely diamond rings, though. Where did you buy them?
I didn't buy them - they were gifts, (whispers) From a friend.
Must be a pretty good friend.
I told you - I make people feel special.
Uh-huh. So tell me, what's your secret recipe for seduction?
(stretches out on couch in full coquette mode) One teaspoon of flirtiness, one teaspoon of laughter, and a cupful of uninhibitedness.
And is that why Puff Daddy got you that ring?
(aghast again) Why would you even say that!
Because you know that's what everybody thinks. And also because right now you're humping that pillow between your legs.
No, I'm not- this is the way I sleep! Look, Puff and I have hung out and been friends since we did our video, so people started making up all these rumors.
So you're not dating him?
(none too convincingly) No.
Fine. New subject: Why, at the height of your movie stardom, have you decided to make your singing debut? It didn't work for Don Johnson.
Because it's tough, challenging, and scary - all the stuff I love. And singing and dancing is where I started - and when I was doing Selena, she inspired me to pursue that part of me all over again. I mean, I do get vibes from people like "She's crazy to be going after this," and it is a risk, but I have the same mentality I had with the movies: If I would've held back on that because I was scared and from the Bronx, I wouldn't be where I am today.
So, like Selena, are you aiming for the Astrodome?
Aren't we all?
What'll you do if the album flops?
Make another.
Go, baby. So what are your songs about?
Mostly love and partying.
Quick - what's your party cocktail of choice?
I don't drink, smoke, or take drugs. Never even tried them. I'm too focused.
Wow, again. Okay: The record?
I cowrote three songs. One, "Shouldve Never," is about a situation when you just feel like you should have never touched that person. You know? Not that you really regret it, because you love that person, too.
People will assume, of course, that this is about your ex-husband, Ojani Noa.
Well, let 'em think whatever they wanna think. I really don't give a @#%$.
Okay, then, let's talk about what you're scratching right now.
My butt? (laughs) It's funny - a lot of people have been asking me lately, "When did people start talking so much about your butt? When did this happen?"
Yeah, some people are famous for their breasts, but you, little one, are famous for your booty.
I think it started with Selena and all those tight pants. But you know, I don't have to be a size 2 to be sexy. I love my butt and I was never ashamed of it, and I guess not being ashamed of something like that, which is uncharacteristic of this society, made it become a focal point.
Yup. A journalist told me that Mark Wahlberg said his personal high point of the MTV Video Music Awards was when you took him into a bathroom and showed him - and I quote - your "bare rear end."
Marky must be trying to score some points with his friends back in his neighborhood, 'cause if you think I would go into a bathroom and show anybody my ass, you must be crazy! I'm gonna have to call that boy and slap him across the mouth!
I guess this means there'll be no Playboy spreads for you.
Hell no - I'm not planning on showing anybody but my gynecologist what I've got between my legs.
You're a pistol, Jennifer. Do you ever feel insecure?
When I'm not prepared. Which is almost never.
What do you think of the term "Latin spitfire"?
I don't know. I mean, what is a Latin spitfire? One of the things that Out of Sight did was make people see me in a different light, in a role that wasn't constantly saying I was Latin. I was just a strong woman opposite a man, and that's always been a goal of mine. Which is not to say that if a Latin role came along I'd turn it down, because I'm more than proud of my heritage.
What's it like now when you go home to that heritage?
Everybody's supportive, but some people are a little weirded out. They've seen you thirty feet big, you're in the papers, and people talk about you on TV, so now they think you're a different person. After five seconds they realize you're still normal.
And, like you say, you're good at making people feel good, aren't you?
Yeah, honey, that's what I do. (picks up her box) Would you like another chocolate?